Inspirational Quotes on Happiness
Don't you just love reading inspiring and uplifting quotes on Happiness? Happiness is defined as the state of being happy. Most of the times people usually follow other people's idea of happiness, forgetting that they themselves are one's who can create their happiness and be in it. Happiness is not a destination, but it is the journey which can be experienced in each moment of life. The choice of one's source of happiness is always in their hands. But from time to tie, we need to refocus our thinking to the idea of happiness and how it can be attained by each of us. Here are some of the best inspirational quotes on Happiness:
Inspirational Quotes part 1:
For every minute you are angry you lose sixty seconds of happiness.
Ralph Waldo Emerson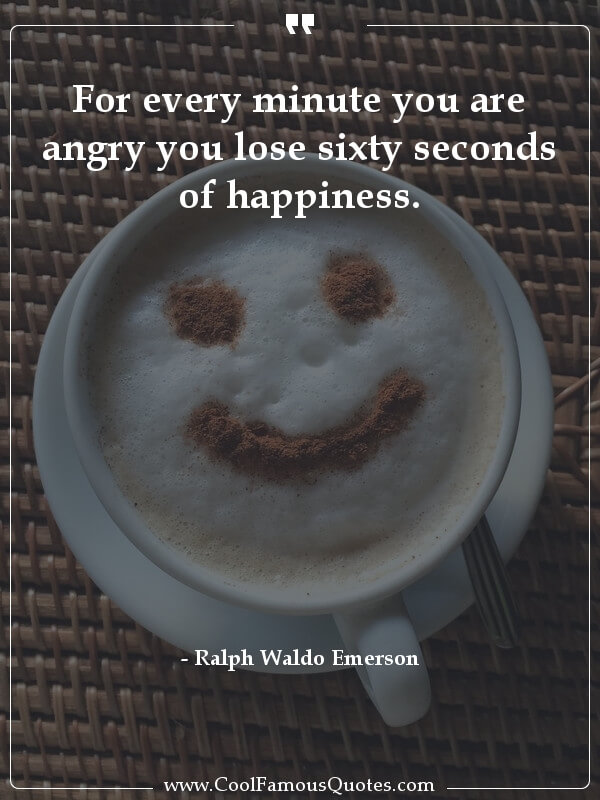 It's so hard to forget pain, but it's even harder to remember sweetness. We have no scar to show for happiness. We learn so little from peace.
Chuck Palahniuk
Happiness in intelligent people is the rarest thing I know.
Ernest Hemingway
Happiness is when what you think, what you say, and what you do are in harmony.
Mahatma Gandhi
You will never be happy if you continue to search for what happiness consists of. You will never live if you are looking for the meaning of life.
Albert Camus
There's nothing like deep breaths after laughing that hard. Nothing in the world like a sore stomach for the right reasons.
Stephen Chbosky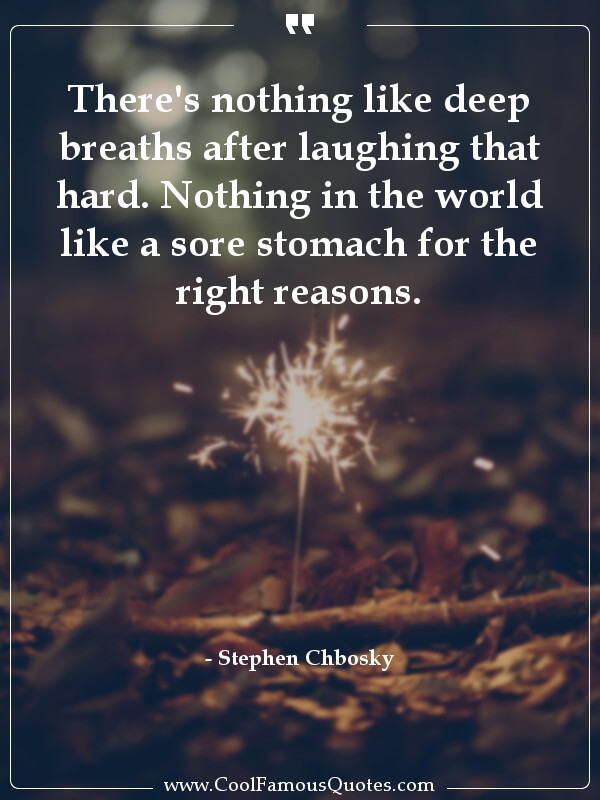 You cannot protect yourself from sadness without protecting yourself from happiness.
Jonathan Safran Foer
Let us be grateful to the people who make us happy; they are the charming gardeners who make our souls blossom.
Marcel Proust

I am not proud, but I am happy; and happiness blinds, I think, more than pride.
Alexandre Dumas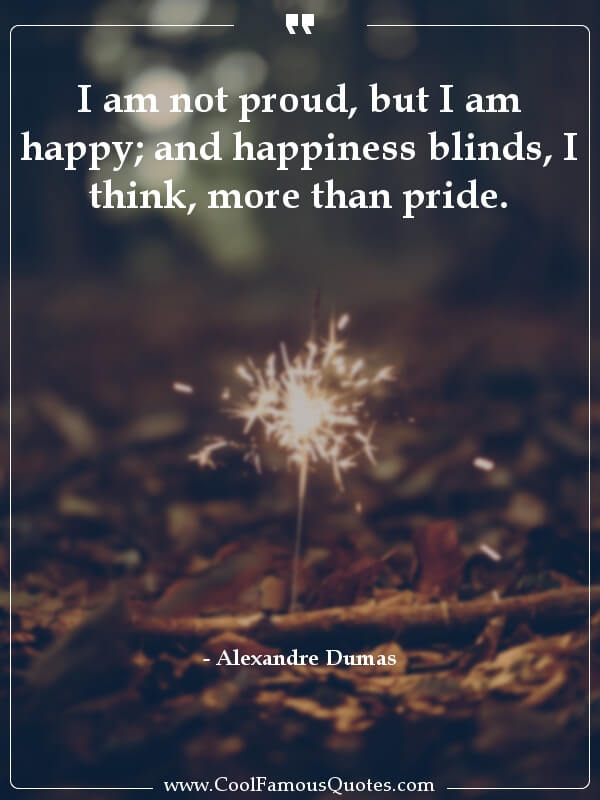 All happiness depends on courage and work.
Honoré de Balzac
The best way to cheer yourself is to try to cheer someone else up.
Mark Twain
I must learn to be content with being happier than I deserve.
Jane Austen
Man only likes to count his troubles; he doesn't calculate his happiness.
Fyodor Dostoyevsky
Inspirational Quotes part 2:
The happiness of your life depends upon the quality of your thoughts.
Marcus Aurelius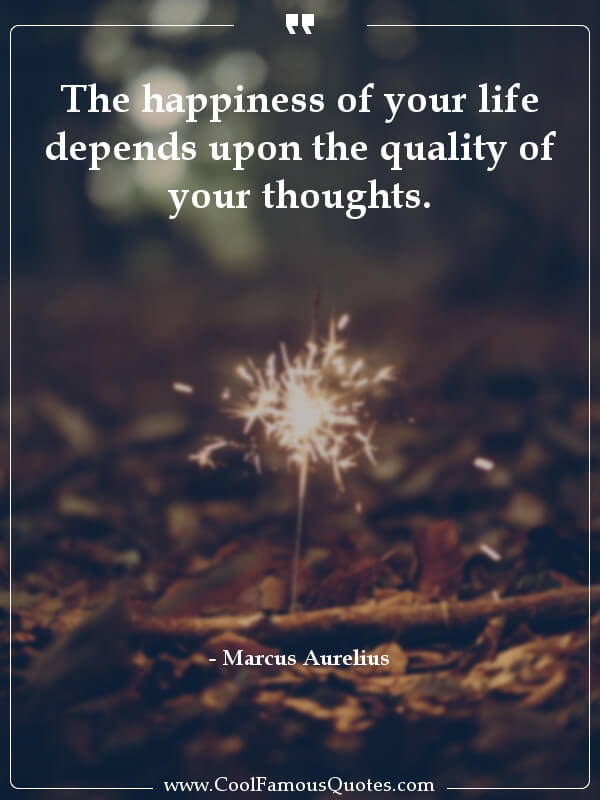 Happiness is the meaning and the purpose of life, the whole aim and end of human existence.
Aristotle
The secret of happiness is freedom, the secret of freedom is courage.
Carrie Jones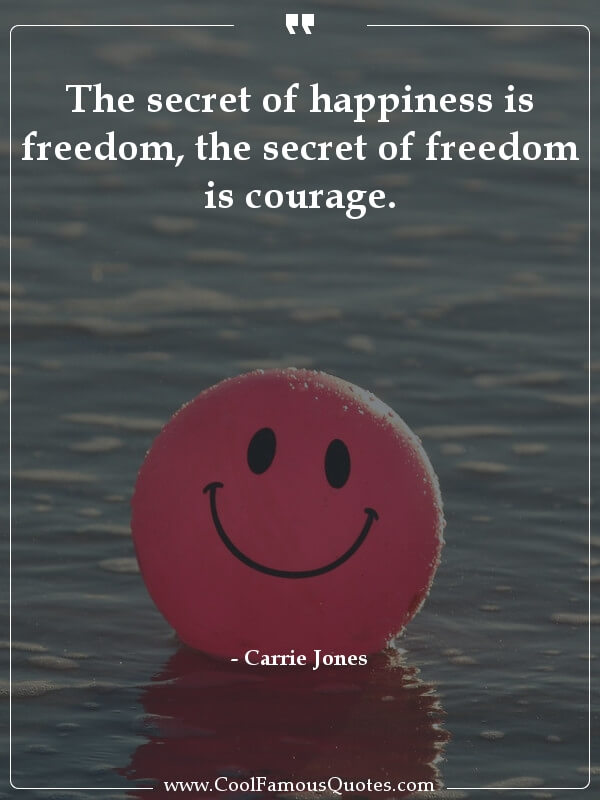 There are two ways to get enough. One is to continue to accumulate more and more. The other is to desire less.
G.K. Chesterton
I think happiness is what makes you pretty. Period. Happy people are beautiful. They become like a mirror and they reflect that happiness.
Drew Barrymore
Children are happy because they don't have a file in their minds called "All the Things That Could Go Wrong.
Marianne Williamson
Happiness is not a possession to be prized, it is a quality of thought, a state of mind.
Daphne du Maurier
If you want others to be happy, practice compassion. If you want to be happy, practice compassion.
Dalai Lama XIV
Very little is needed to make a happy life; it is all within yourself in your way of thinking.
Marcus Aurelius
We all live with the objective of being happy; our lives are all different and yet the same.
Anne Frank
Many people think excitement is happiness.... But when you are excited you are not peaceful. True happiness is based on peace.
Thich Nhat Hanh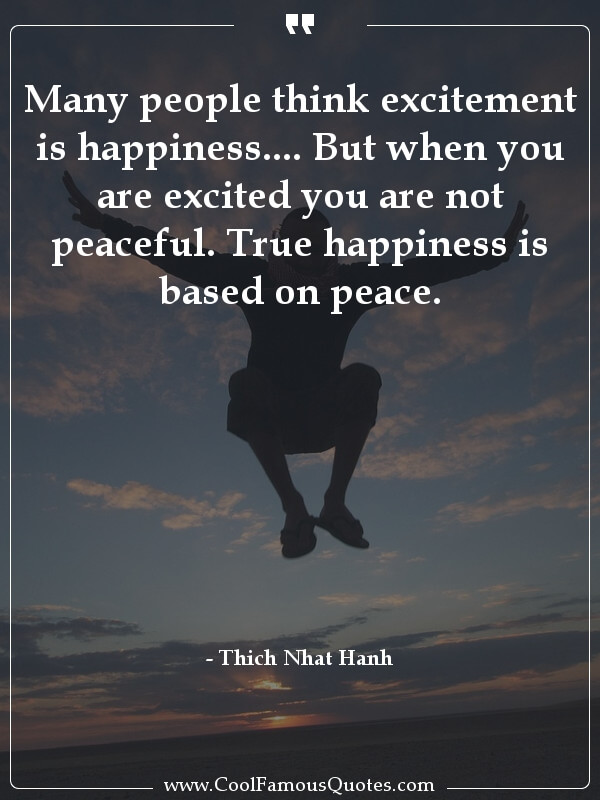 There are as many styles of beauty as there are visions of happiness.
Stendhal
We buy things we don't need with money we don't have to impress people we don't like.
Dave Ramsey
right in this moment, I can´t even remember what unhappy feels like.
Maggie Stiefvater
What other inspirational quotes or happy quote would you add to the list? Tell us in the comment section below.
Related topics: