100 Inspirational Love Quotes and Sayings
Love is one of greatest feeling that help us to keep going no matter how hard the circumstances may be, It could make any relationship grow. It could make your life more beautiful and meaningful.
So we would like to share some famous inspirational quotes and sayings quotes about love, to express feelings with the most simple wording.
If I had a flower for every time I thought of you...I could walk through my garden forever.
–Alfred Tennyson
Tis better to have loved and lostThan never to have loved at all.
–Alfred Tennyson
Love never dies a natural death. It dies because we don't know how to replenish its source. It dies of blindness and errors and betrayals. It dies of illness and wounds; it dies of weariness, of witherings, of tarnishings.
–Anaïs Nin
It is better to be hated for what you are than to be loved for what you are not.
–André Gide
And now these three remain: faith, hope and love. But the greatest of these is love.
–Anonymous
Love does not consist of gazing at each other, but in looking outward together in the same direction.
–Antoine de Saint-Exupéry
Man may have discovered fire, but women discovered how to play with it.
–Candace Bushnell
I would always rather be happy than dignified.
–Charlotte Brontë
The one you love and the one who loves you are never, ever the same person.
–Chuck Palahniuk
What I want is to be needed. What I need is to be indispensable to somebody. Who I need is somebody that will eat up all my free time, my ego, my attention. Somebody addicted to me. A mutual addiction.
–Chuck Palahniuk
A guy and a girl can be just friends, but at one point or another, they will fall for each other...Maybe temporarily, maybe at the wrong time, maybe too late, or maybe forever
–Dave Matthews Band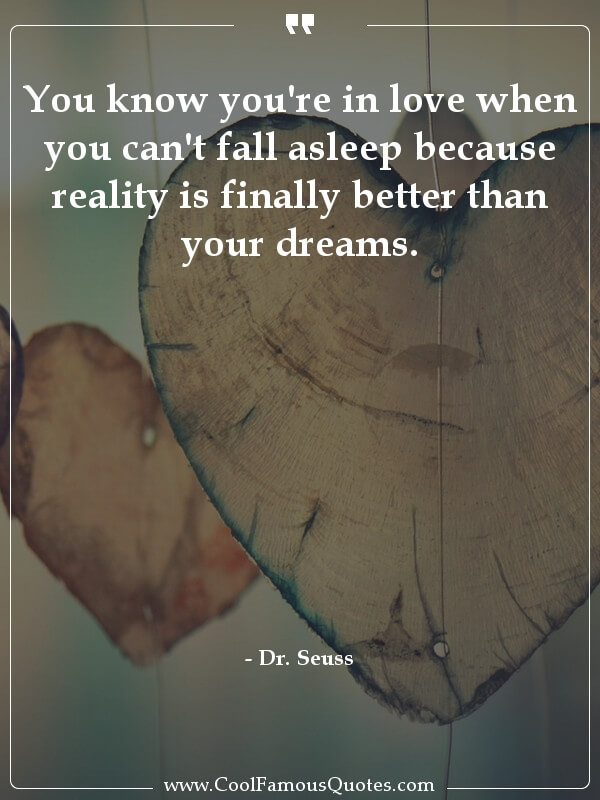 You know you're in love when you can't fall asleep because reality is finally better than your dreams.
–Dr. Seuss
We loved with a love that was more than love.
–Edgar Allan Poe
A friend is someone who knows all about you and still loves you.
–Elbert Hubbard
The opposite of love is not hate, it's indifference. The opposite of art is not ugliness, it's indifference. The opposite of faith is not heresy, it's indifference. And the opposite of life is not death, it's indifference.
–Elie Wiesel
This is a good sign, having a broken heart. It means we have tried for something.
–Elizabeth Gilbert
He's more myself than I am. Whatever our souls are made of, his and mine are the same.
–Emily Brontë
If all else perished, and he remained, I should still continue to be; and if all else remained, and he were annihilated, the universe would turn to a mighty stranger.
–Emily Brontë
It is not a lack of love, but a lack of friendship that makes unhappy marriages.
–Friedrich Nietzsche
There is always some madness in love. But there is also always some reason in madness.
–Friedrich Nietzsche
If you remember me, then I don't care if everyone else forgets.
–Haruki Murakami
Dumbledore watched her fly away, and as her silvery glow faded he turned back to Snape, and his eyes were full of tears."After all this time?""Always," said Snape.
–J.K. Rowling
To die will be an awfully big adventure.
–J.M. Barrie
The world is indeed full of peril, and in it there are many dark places; but still there is much that is fair, and though in all lands love is now mingled with grief, it grows perhaps the greater.
–J.R.R. Tolkien
Love does not begin and end the way we seem to think it does. Love is a battle, love is a war; love is a growing up.
–James Baldwin
I cannot fix on the hour, or the spot, or the look or the words, which laid the foundation. It is too long ago. I was in the middle before I knew that I had begun.
–Jane Austen
A lady's imagination is very rapid; it jumps from admiration to love, from love to matrimony in a moment.
–Jane Austen
The more I know of the world, the more I am convinced that I shall never see a man whom I can really love. I require so much!
–Jane Austen
In vain have I struggled. It will not do. My feelings will not be repressed. You must allow me to tell you how ardently I admire and love you.
–Jane Austen
There is nothing I would not do for those who are really my friends. I have no notion of loving people by halves, it is not my nature.
–Jane Austen
Love is a fire. But whether it is going to warm your hearth or burn down your house, you can never tell.
–Joan Crawford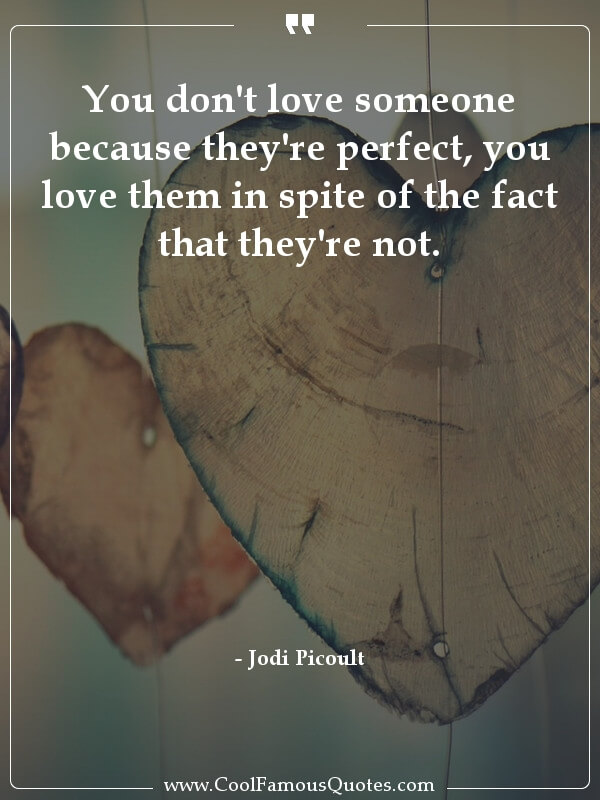 You don't love someone because they're perfect, you love them in spite of the fact that they're not.
–Jodi Picoult
Some people don't understand the promises they're making when they make them," I said."Right, of course. But you keep the promise anyway. That's what love is. Love is keeping the promise anyway.
–John Green
As he read, I fell in love the way you fall asleep: slowly, and then all at once.
–John Green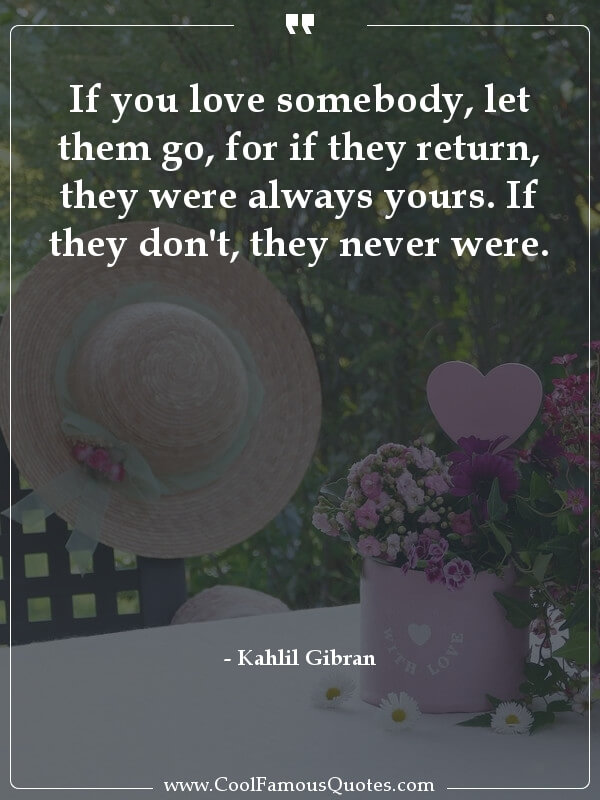 If you love somebody, let them go, for if they return, they were always yours. If they don't, they never were.
–Kahlil Gibran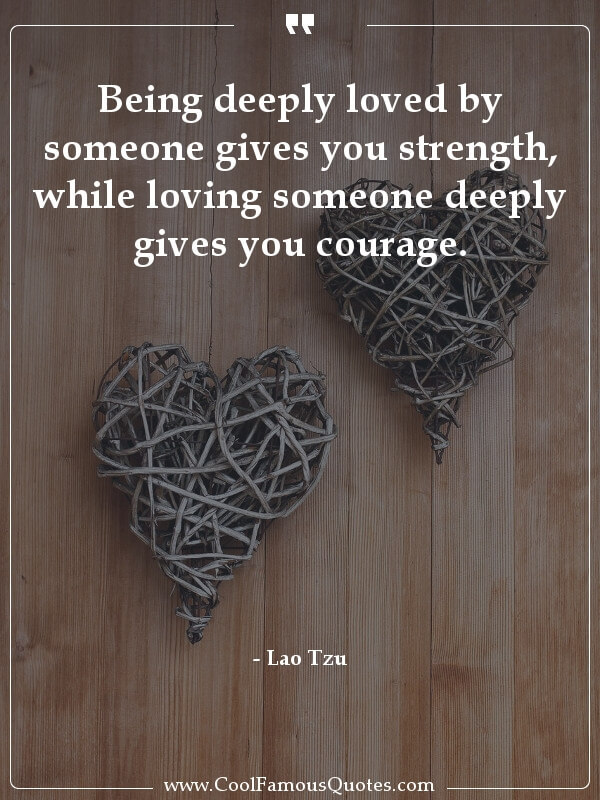 Being deeply loved by someone gives you strength, while loving someone deeply gives you courage.
–Lao Tzu
I love you. Remember. They cannot take it
–Lauren Oliver
When I despair, I remember that all through history the way of truth and love have always won. There have been tyrants and murderers, and for a time, they can seem invincible, but in the end, they always fall. Think of it--always.
–Mahatma Gandhi
I'm selfish, impatient and a little insecure. I make mistakes, I am out of control and at times hard to handle. But if you can't handle me at my worst, then you sure as hell don't deserve me at my best.
–Marilyn Monroe
The real lover is the man who can thrill you by kissing your forehead or smiling into your eyes or just staring into space.
–Marilyn Monroe
If you can make a woman laugh, you can make her do anything.
–Marilyn Monroe
The only thing worse than a boy who hates you: a boy that loves you.
–Markus Zusak
I have decided to stick to love...Hate is too great a burden to bear.
–Martin Luther King Jr.
Darkness cannot drive out darkness: only light can do that. Hate cannot drive out hate: only love can do that.
–Martin Luther King Jr.
A woman's heart should be so hidden in God that a man has to seek Him just to find her.
–Max Lucado
I don't trust people who don't love themselves and tell me, 'I love you.' ... There is an African saying which is: Be careful when a naked person offers you a shirt.
–Maya Angelou
Two people in love, alone, isolated from the world, that's beautiful.
–Milan Kundera
I am not sure exactly what heaven will be like, but I know that when we die and it comes time for God to judge us, he will not ask, 'How many good things have you done in your life?' rather he will ask, 'How much love did you put into what you did?
–Mother Teresa
Have you ever been in love? Horrible isn't it? It makes you so vulnerable. It opens your chest and it opens up your heart and it means that someone can get inside you and mess you up.
–Neil Gaiman
Just when you think it can't get any worse, it can. And just when you think it can't get any better, it can.
–Nicholas Sparks
Love is like the wind, you can't see it but you can feel it.
–Nicholas Sparks
They didn't agree on much. In fact, they didn't agree on anything. They fought all the time and challenged each other ever day. But despite their differences, they had one important thing in common. They were crazy about each other.
–Nicholas Sparks
I love you more than there are stars in the sky and fish in the sea.
–Nicholas Sparks
So it's not gonna be easy. It's going to be really hard; we're gonna have to work at this everyday, but I want to do that because I want you. I want all of you, forever, everyday. You and me... everyday.
–Nicholas Sparks
My daddy said, that the first time you fall in love, it changes you forever and no matter how hard you try, that feeling just never goes away.
–Nicholas Sparks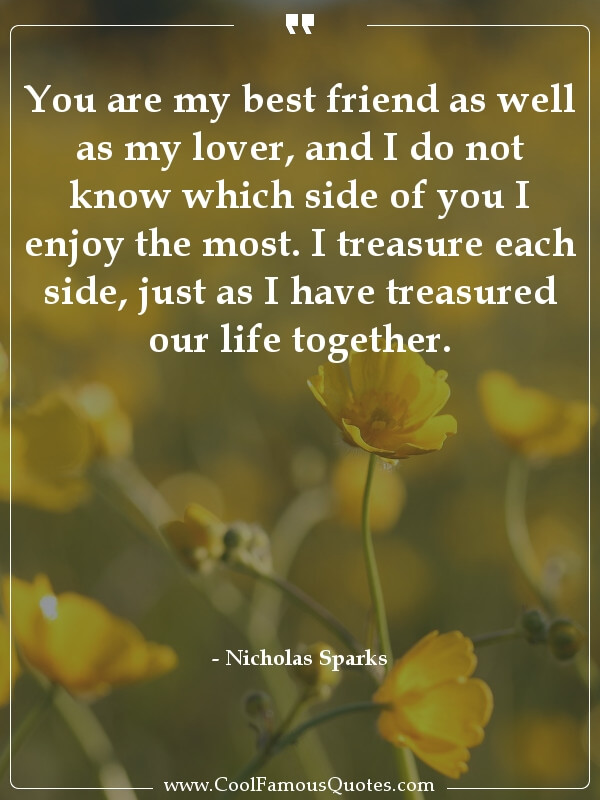 You are my best friend as well as my lover, and I do not know which side of you I enjoy the most. I treasure each side, just as I have treasured our life together.
–Nicholas Sparks
You are, and always have been, my dream.
–Nicholas Sparks
The best love is the kind that awakens the soul and makes us reach for more, that plants a fire in our hearts and brings peace to our minds. And that's what you've given me. That's what I'd hoped to give you forever
–Nicholas Sparks
If you like her, if she makes you happy, and if you feel like you know her---then don't let her go.
–Nicholas Sparks
You are the answer to every prayer I've offered. You are a song, a dream, a whisper, and I don't know how I could have lived without you for as long as I have.
–Nicholas Sparks
Once upon a time there was a boy who loved a girl, and her laughter was a question he wanted to spend his whole life answering.
–Nicole Krauss
Never love anyone who treats you like you're ordinary.
–Oscar Wilde
The very essence of romance is uncertainty.
–Oscar Wilde
I love you as certain dark things are to be loved, in secret, between the shadow and the soul.
–Pablo Neruda
Love is so short, forgetting is so long.
–Pablo Neruda
And, in the endThe love you takeis equal to the love you make.
–Paul McCartney
One is loved because one is loved. No reason is needed for loving.
–Paulo Coelho
So, I love you because the entire universe conspired to help me find you.
–Paulo Coelho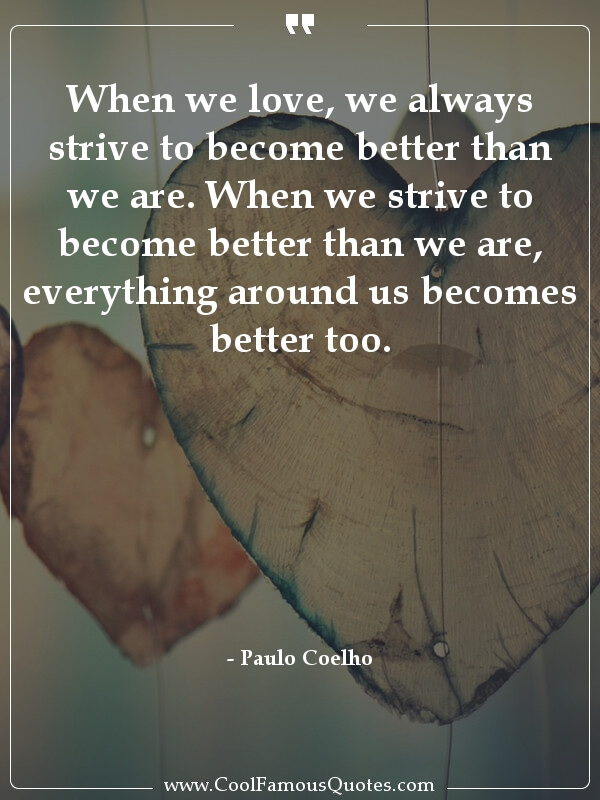 When we love, we always strive to become better than we are. When we strive to become better than we are, everything around us becomes better too.
–Paulo Coelho
If pain must come, may it come quickly. Because I have a life to live, and I need to live it in the best way possible. If he has to make a choice, may he make it now. Then I will either wait for him or forget him.
–Paulo Coelho
When love is not madness it is not love.
–Pedro Calderón de la Barca
Every heart sings a song, incomplete, until another heart whispers back. Those who wish to sing always find a song. At the touch of a lover, everyone becomes a poet.
–Plato
Eleanor was right. She never looked nice. She looked like art, and art wasn't supposed to look nice; it was supposed to make you feel something.
–Rainbow Rowell
Perhaps all the dragons in our lives are princesses who are only waiting to see us act, just once, with beauty and courage. Perhaps everything that frightens us is, in its deepest essence, something helpless that wants our love.
–Rainer Maria Rilke
Do you think I'm pretty?I think you're beautifulBeautiful?You are so beautiful, it hurts sometimes.
–Richelle Mead
Be careful of love. It'll twist your brain around and leave you thinking up is down and right is wrong.
–Rick Riordan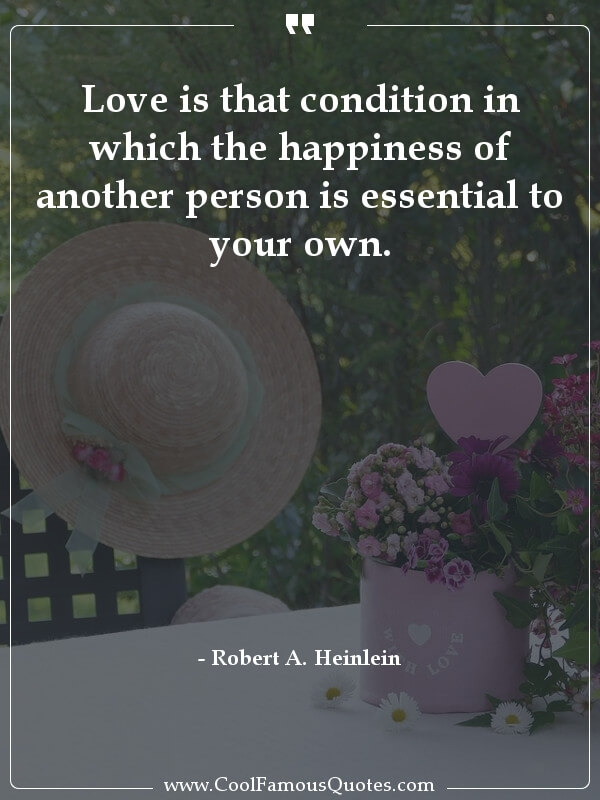 Love is that condition in which the happiness of another person is essential to your own.
–Robert A. Heinlein
We love the things we love for what they are.
–Robert Frost
We're all a little weird. And life is a little weird. And when we find someone whose weirdness is compatible with ours, we join up with them and fall into mutually satisfying weirdness—and call it love—true love.
–Robert Fulghum
Out beyond ideas of wrongdoing and rightdoing there is a field.I'll meet you there.When the soul lies down in that grassthe world is too full to talk about.
–Rumi
There is never a time or place for true love. It happens accidentally, in a heartbeat, in a single flashing, throbbing moment.
–Sarah Dessen
Love is needing someone. Love is putting up with someone's bad qualities because they somehow complete you.
–Sarah Dessen
How many slams in an old screen door? Depends how loud you shut it. How many slices in a bread? Depends how thin you cut it. How much good inside a day? Depends how good you live 'em. How much love inside a friend? Depends how much you give 'em.
–Shel Silverstein
For the two of us, home isn't a place. It is a person. And we are finally home.
–Stephanie Perkins
We accept the love we think we deserve.
–Stephen Chbosky
I would die for you. But I won't live for you.
–Stephen Chbosky
And so the lion fell in love with the lamb…" he murmured. I looked away, hiding my eyes as I thrilled to the word."What a stupid lamb," I sighed."What a sick, masochistic lion.
–Stephenie Meyer
I can feel Peeta press his forehead into my temple and he asks, 'So now that you've got me, what are you going to do with me?' I turn into him. 'Put you somewhere you can't get hurt.
–Suzanne Collins
What I need is the dandelion in the spring. The bright yellow that means rebirth instead of destruction. The promise that life can go on, no matter how bad our losses. That it can be good again.
–Suzanne Collins
You love me. Real or not real? I tell him, Real.
–Suzanne Collins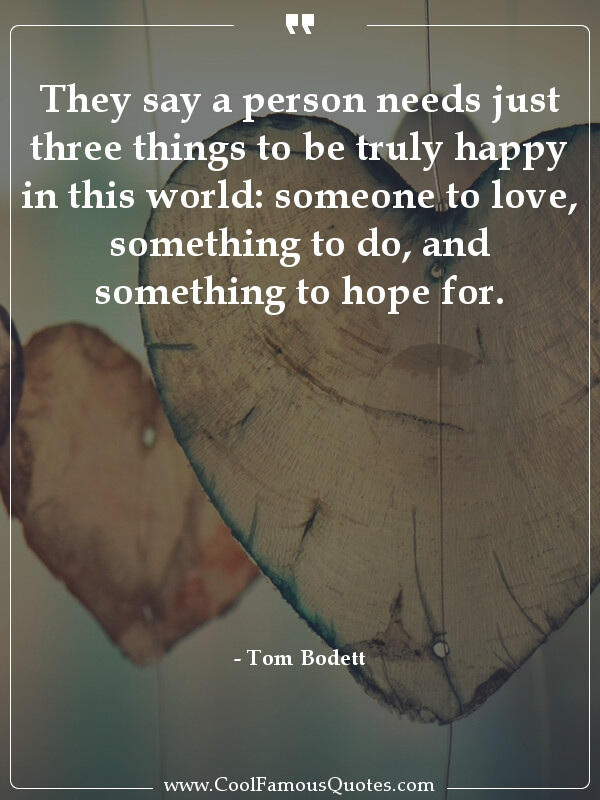 They say a person needs just three things to be truly happy in this world: someone to love, something to do, and something to hope for.
–Tom Bodett
What's meant to be will always find a way
–Trisha Yearwood
Love doesn't just sit there, like a stone, it has to be made, like bread; remade all the time, made new.
–Ursula K. Le Guin
It was love at first sight, at last sight, at ever and ever sight.
–Vladimir Nabokov
This above all: to thine own self be true, And it must follow, as the night the day, Thou canst not then be false to any man.
–William Shakespeare
Doubt thou the stars are fire;Doubt that the sun doth move;Doubt truth to be a liar;But never doubt I love.
–William Shakespeare
Love looks not with the eyes, but with the mind,And therefore is winged Cupid painted blind.
–William Shakespeare
Love all, trust a few, do wrong to none.
–William Shakespeare
You've gotta dance like there's nobody watching,Love like you'll never be hurt,Sing like there's nobody listening,And live like it's heaven on earth.
–William W. Purkey
Nobody has ever measured, not even poets, how much the heart can hold.
–Zelda Fitzgerald
Related topics: