100 Happy Life Quotes to Live By for 2022
Happiness isn't something that just happens to you. Everyone has the power to make small changes in our behavior, our surroundings and our relationships that can help set us on course for a happier life. The truth of the matter is that a happier life means many things to different people.
Though we all want to be more positive, we've curated the very best, most inspirational quotes about happiness in the hopes that they'll help put a smile on your face.
Happy Life Quotes for 2022
Feel free to pin these on your Pinterest board.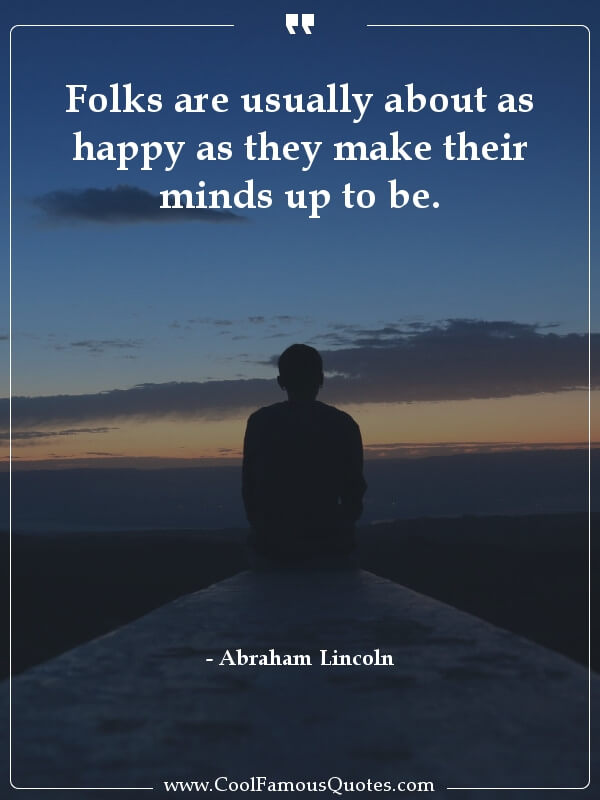 Folks are usually about as happy as they make their minds up to be.
–Abraham Lincoln
Happiness and the absurd are two sons of the same earth. They are inseparable.
–Albert Camus
The true measure of a man is how he treats you when others are not looking.
–Alessandra Torre
those who do not know how to see the precious things in life will never be happy.
–Alex Flinn
It is sometimes easier to be happy if you don't know everything.
–Alexander McCall Smith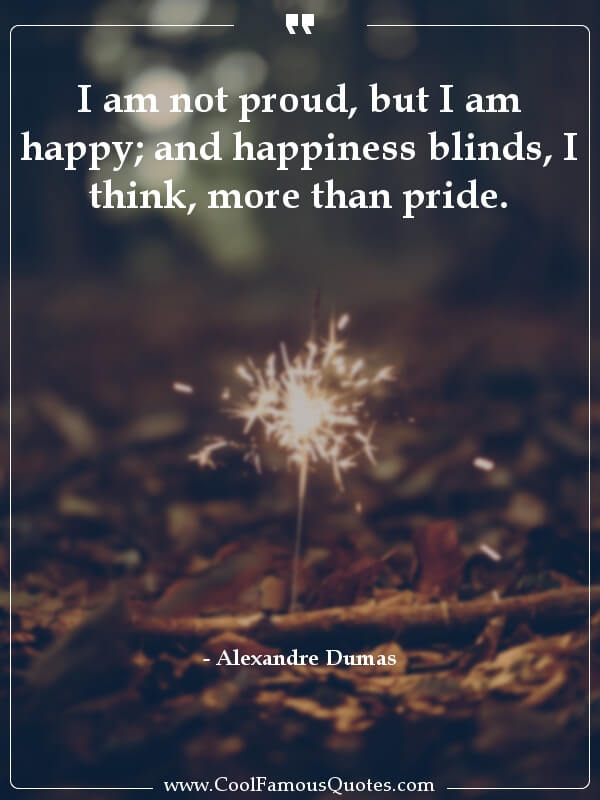 I am not proud, but I am happy; and happiness blinds, I think, more than pride.
–Alexandre Dumas
Beauty is the purest feeling of the soul. Beauty arises when soul is satisfied.
–Amit Ray
I'd rather be miserable loving you than happy with anyone else.
–Angela Morrison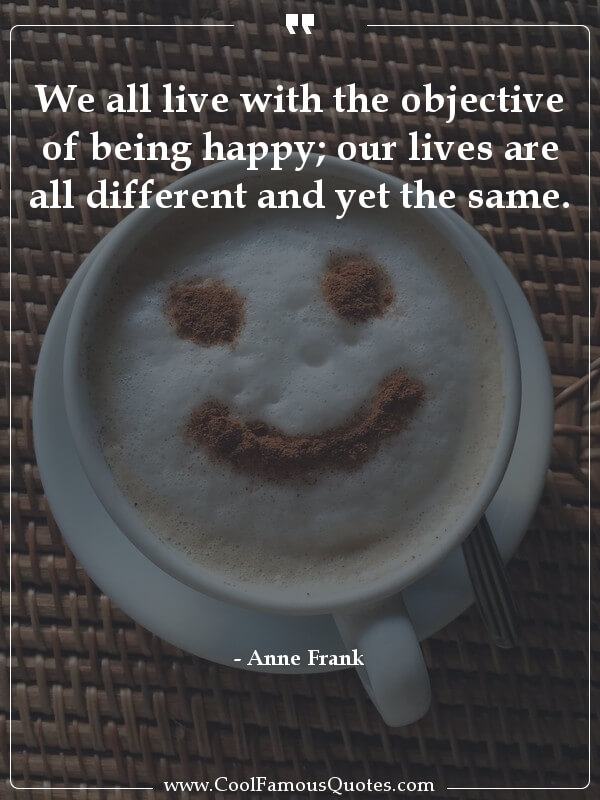 We all live with the objective of being happy; our lives are all different and yet the same.
–Anne Frank
Even in Siberia there is happiness.
–Anton Chekhov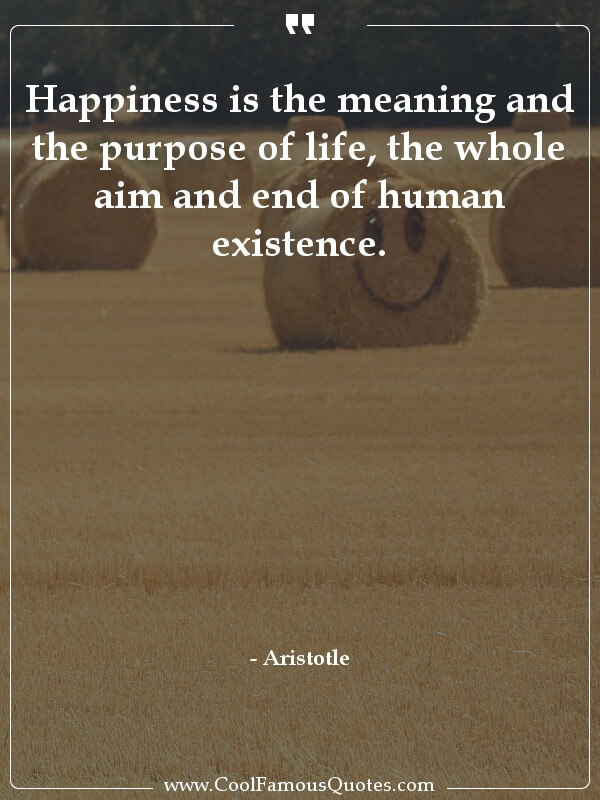 Happiness is the meaning and the purpose of life, the whole aim and end of human existence.
–Aristotle
Happiness consists in frequent repetition of pleasure
–Arthur Schopenhauer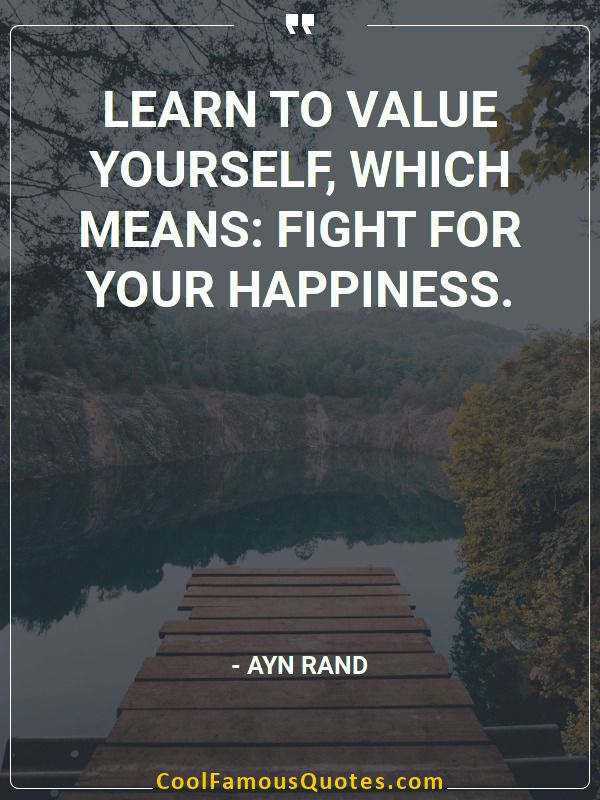 Learn to value yourself, which means: fight for your happiness.
–Ayn Rand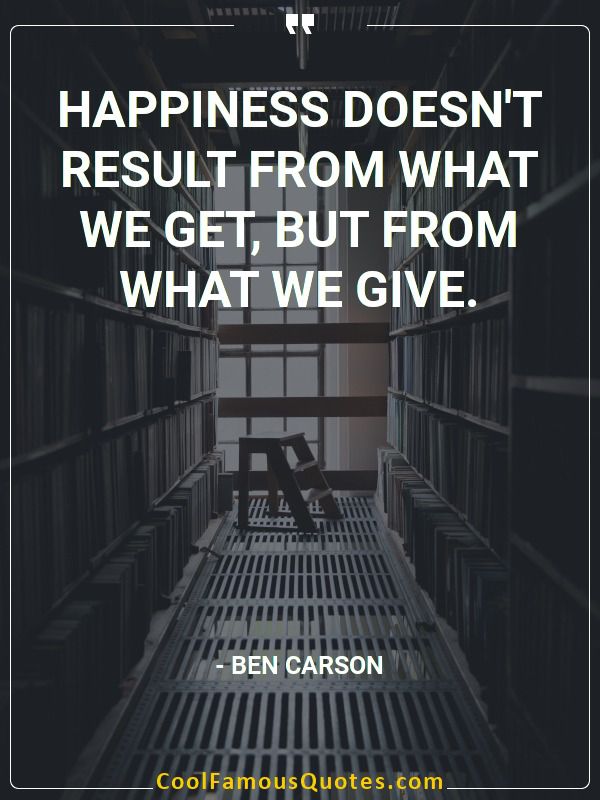 Happiness doesn't result from what we get, but from what we give.
–Ben Carson
The secret of happiness is to face the fact that the world is horrible, horrible, horrible.
–Bertrand Russell
Really high-minded people are indifferent to happiness, especially other people's.
–Bertrand Russell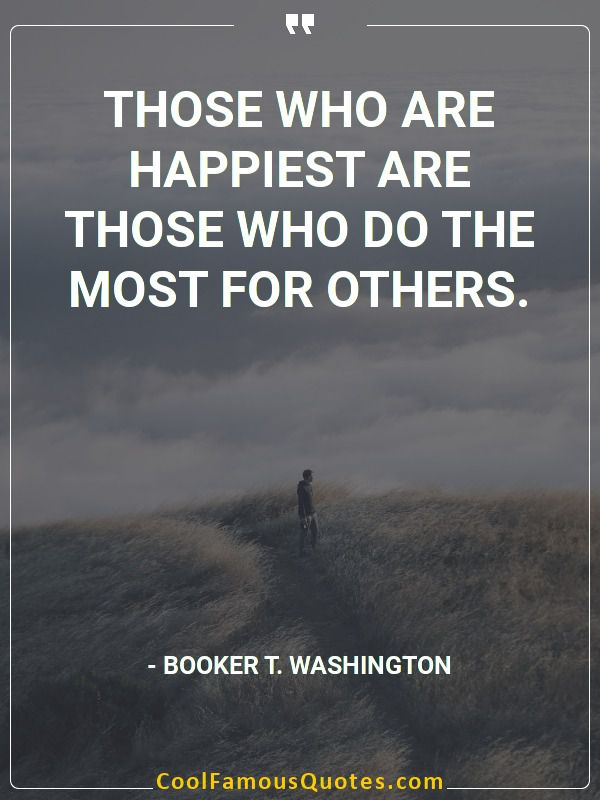 Those who are happiest are those who do the most for others.
–Booker T. Washington
The pain I feel now is the happiness I had before. That's the deal.
–C.S. Lewis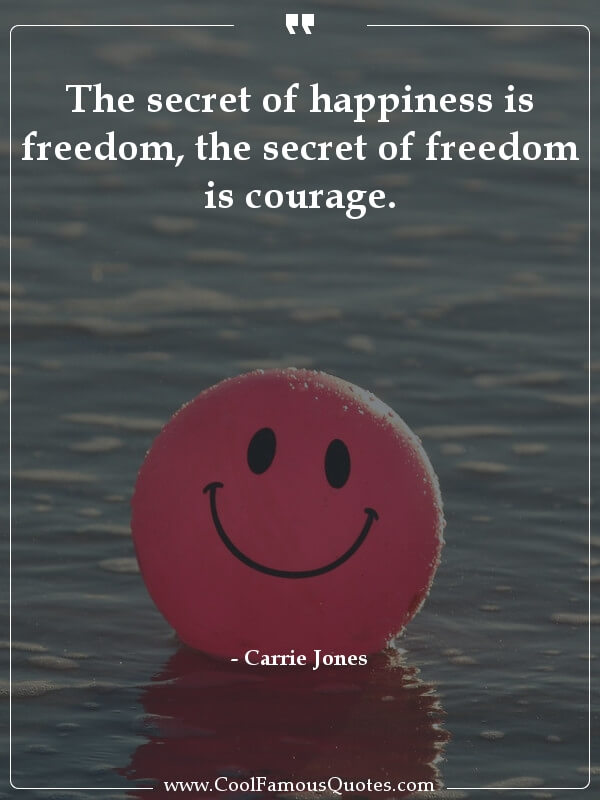 The secret of happiness is freedom, the secret of freedom is courage.
–Carrie Jones
We don't even ask happiness, just a little less pain.
–Charles Bukowski
Happiness is a gift and the trick is not to expect it, but to delight in it when it comes.
–Charles Dickens
Happiness quite unshared can scarcely be called happiness; it has no taste.
–Charlotte Brontë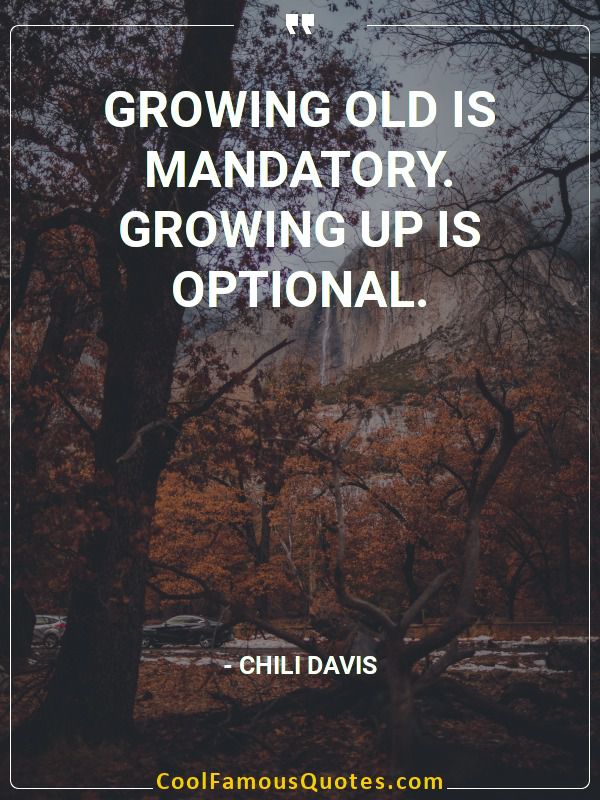 Growing old is mandatory. Growing up is optional.
–Chili Davis
The only way to find true happiness is to risk being completely cut open.
–Chuck Palahniuk
They say all marriages are made in heaven, but so are thunder and lightning.
–Clint Eastwood
No one asked you to be happy. Get to work.
–Colette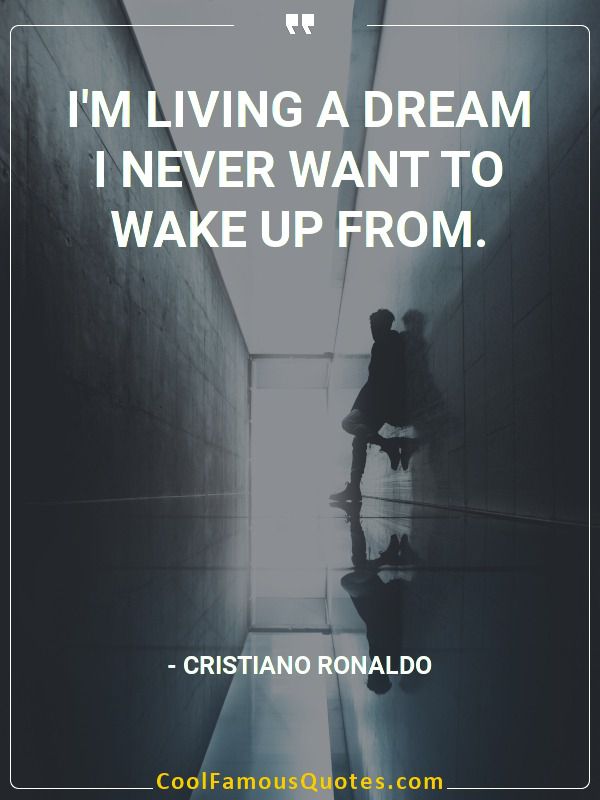 I'm living a dream I never want to wake up from.
–Cristiano Ronaldo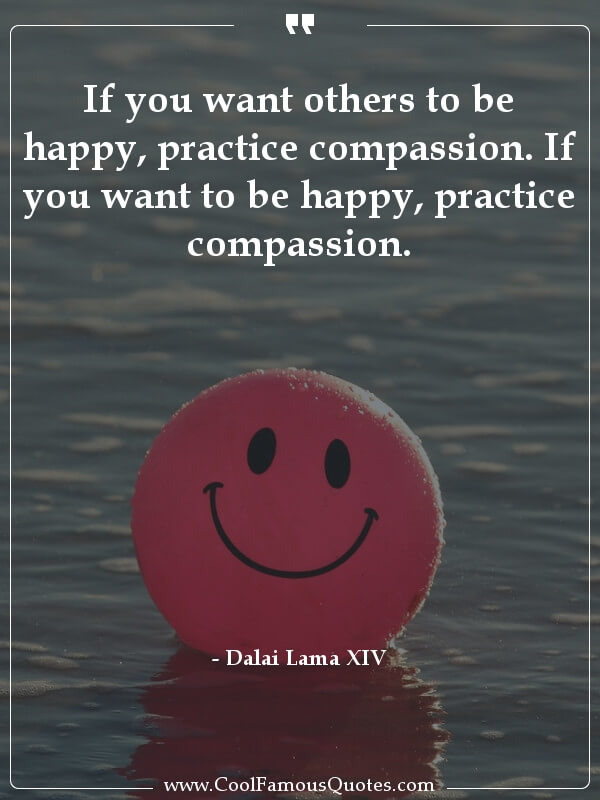 If you want others to be happy, practice compassion. If you want to be happy, practice compassion.
–Dalai Lama XIV
Money does not buy you happiness, but lack of money certainly buys you misery.
–Daniel Kahneman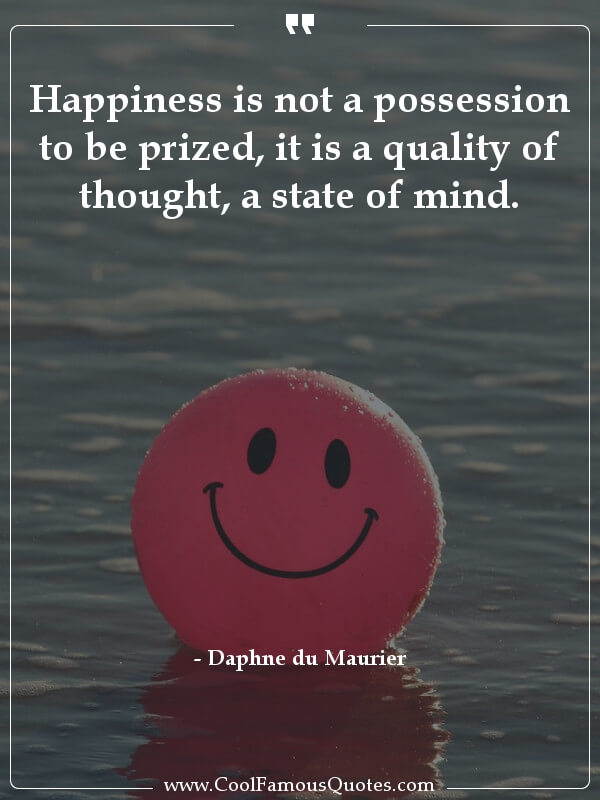 Happiness is not a possession to be prized, it is a quality of thought, a state of mind.
–Daphne du Maurier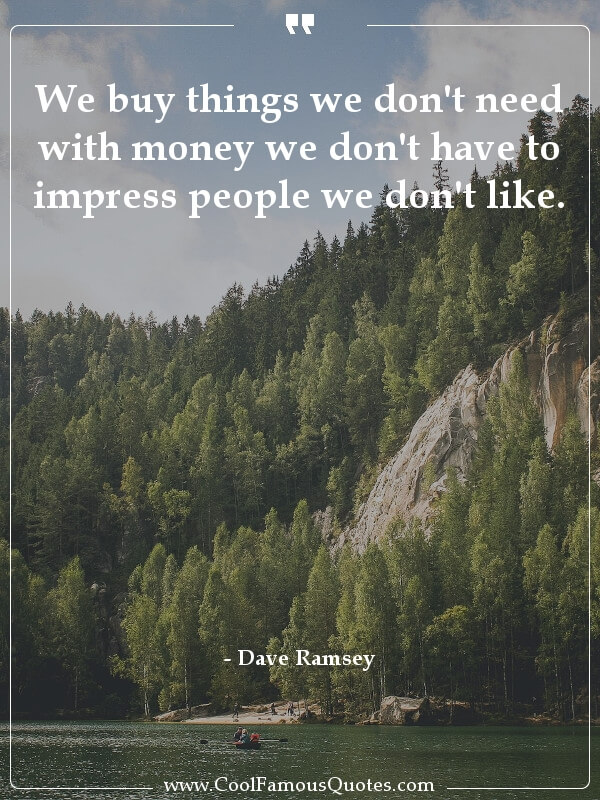 We buy things we don't need with money we don't have to impress people we don't like.
–Dave Ramsey
I'm happy. Which often looks like crazy.
–David Henry Hwang
No one can grant you happiness. Happiness is a choice we all have the power to make.
–Dean Koontz
The purpose of life is the expansion of happiness.
–Deepak Chopra
Until you make peace with who you are, you'll never be content with what you have.
–Doris Mortman
I'd far rather be happy than right any day.
–Douglas Adams
If only we'd stop trying to be happy, we could have a pretty good time.
–Edith Wharton
Woman is not made to be the admiration of all, but the happiness of one.
–Edmund Burke
Talking about someone who makes you happy actually makes you happy.
–Elizabeth Scott
The thing everyone should realize is that the key to happiness is being happy for yourself and yourself.
–Ellen DeGeneres
Wealth consists not in having great possessions, but in having few wants.
–Epictetus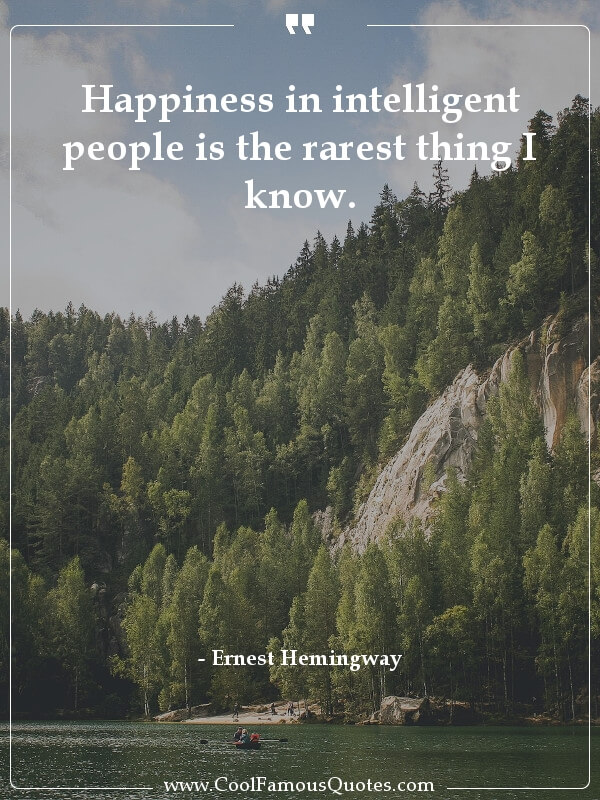 Happiness in intelligent people is the rarest thing I know.
–Ernest Hemingway
The greatest gift you can ever give another person is your own happiness
–Esther Hicks
Happiness lies in the joy of achievement and the thrill of creative effort.
–Franklin D. Roosevelt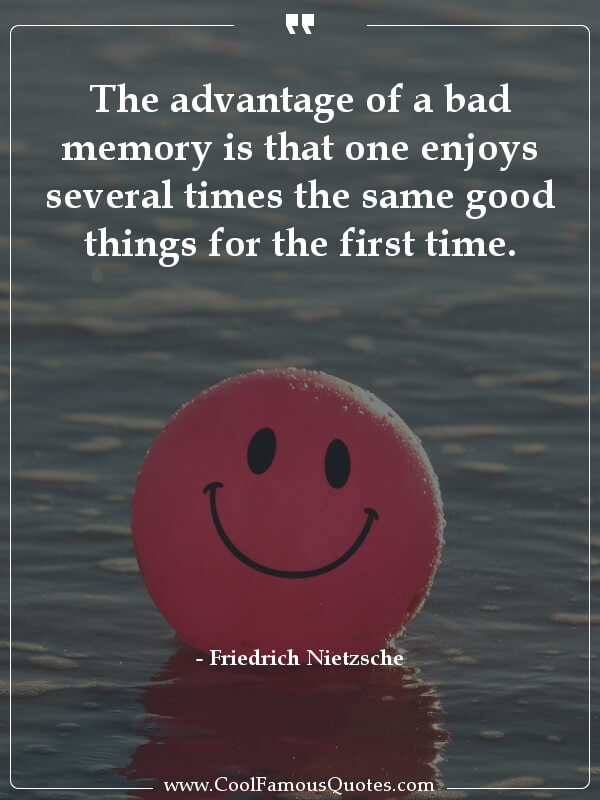 The advantage of a bad memory is that one enjoys several times the same good things for the first time.
–Friedrich Nietzsche
Happiness is a myth. It was invented to make us buy new things.
–Gregory David Roberts
It is the very mark of the spirit of rebellion to crave for happiness in this life
–Henrik Ibsen
Some day you will find out that there is far more happiness in another's happiness than in your own.
–Honoré de Balzac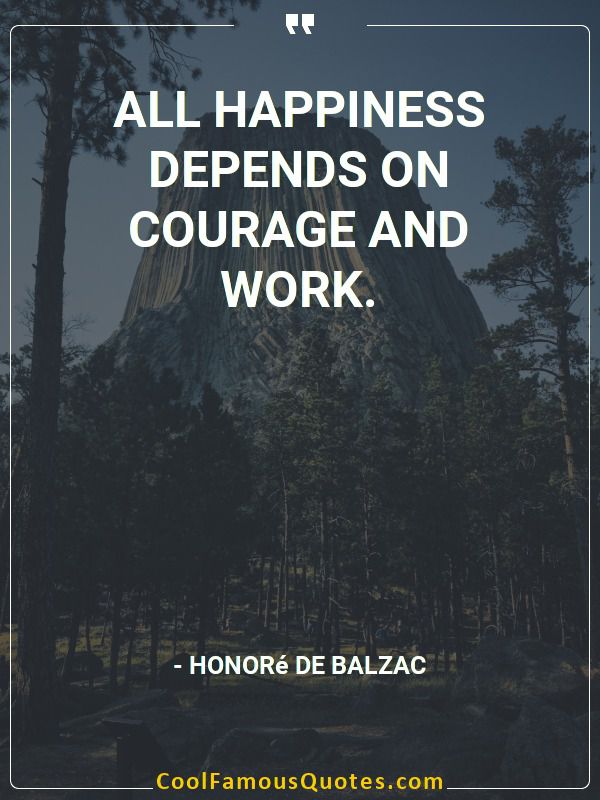 All happiness depends on courage and work.
–Honoré de Balzac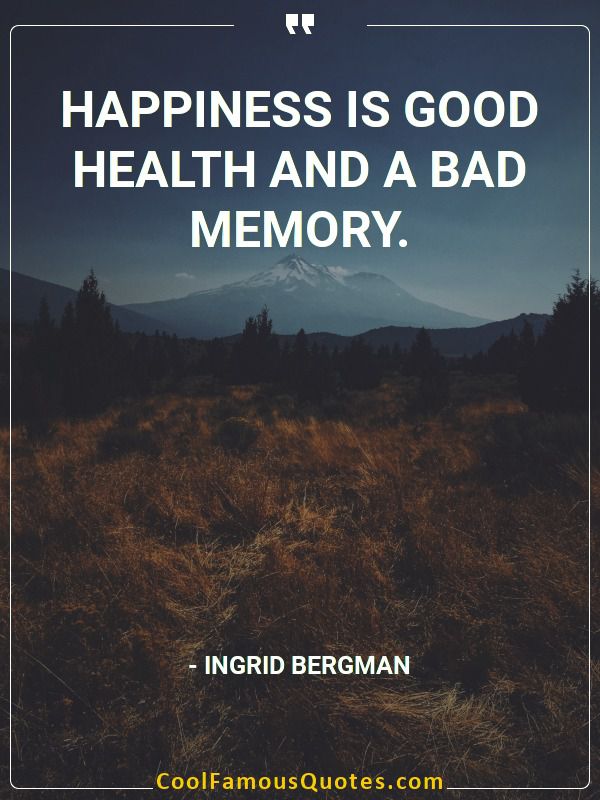 Happiness is good health and a bad memory.
–Ingrid Bergman
The secret of happiness is not doing what we like but in liking what we do.
–J.M. Coetzee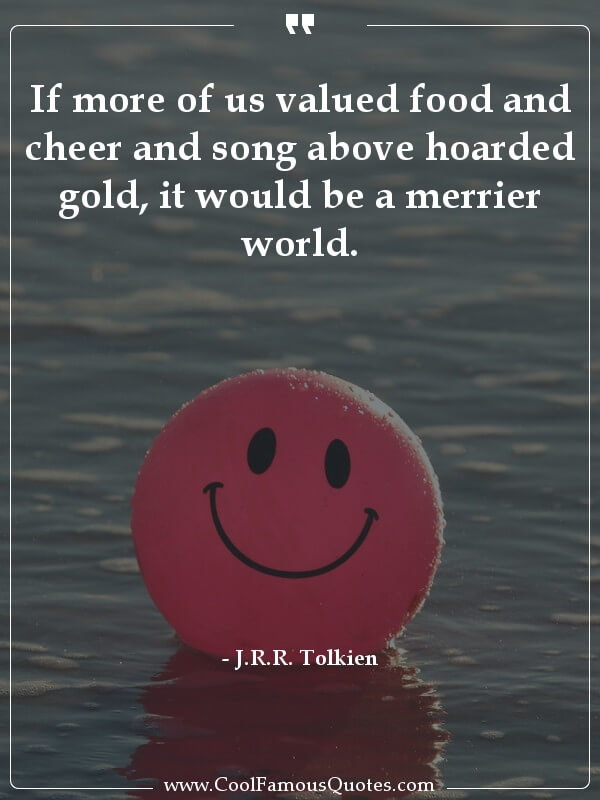 If more of us valued food and cheer and song above hoarded gold, it would be a merrier world.
–J.R.R. Tolkien
We must have the stubbornness to accept our gladness in the ruthless furnace of this world.
–Jack Gilbert
We've got everything we need right here, and everything we need is enough.
–Jack Johnson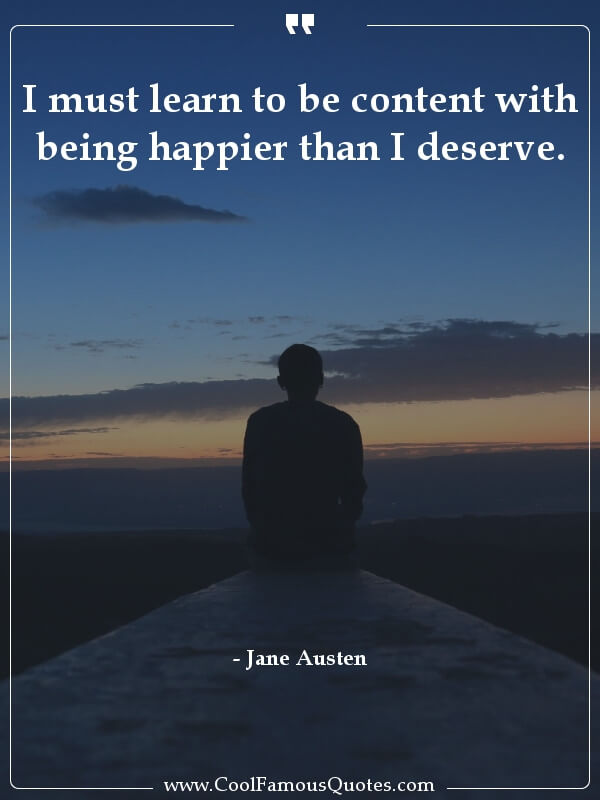 I must learn to be content with being happier than I deserve.
–Jane Austen
You must be the best judge of your own happiness.
–Jane Austen
I am intrigued by the smile upon your face, and the sadness within your eyes
–Jeremy Aldana
I'll never wake up in a good mood again.I'm tired of these stinky boots
–Jim Morrison
Happiness. Simple as a glass of chocolate or tortuous as the heart. Bitter. Sweet. Alive.
–Joanne Harris
There are two ways to be happy: improve your reality, or lower your expectations.
–Jodi Picoult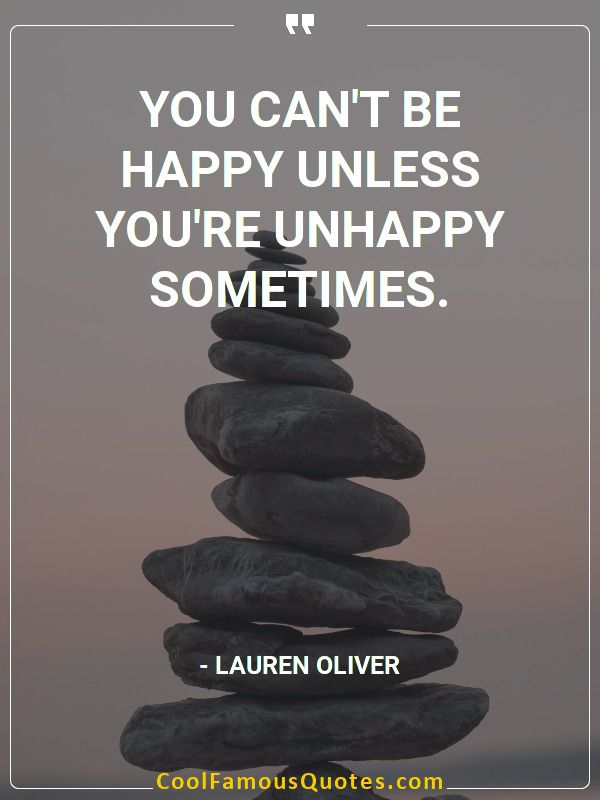 You can't be happy unless you're unhappy sometimes.
–Lauren Oliver
Memory is the happiness of being alone.
–Lois Lowry
It's a helluva start, being able to recognize what makes you happy.
–Lucille Ball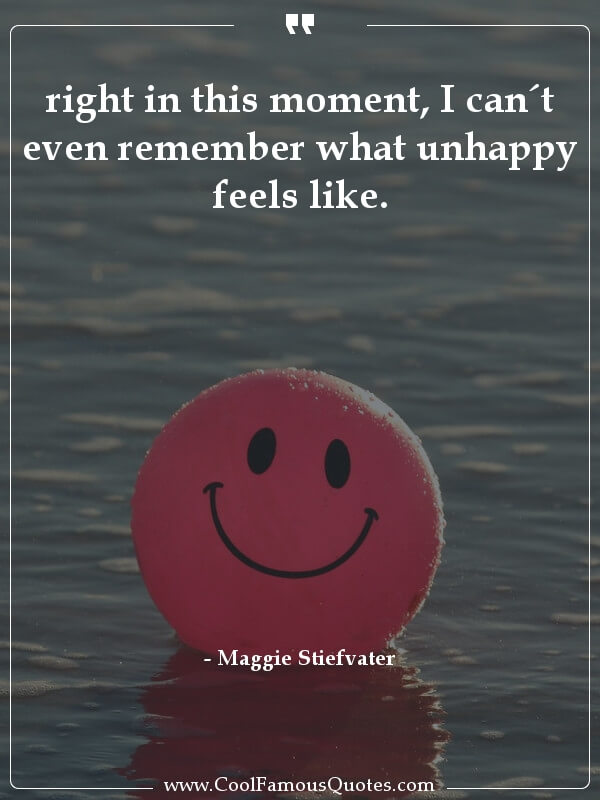 right in this moment, I can´t even remember what unhappy feels like.
–Maggie Stiefvater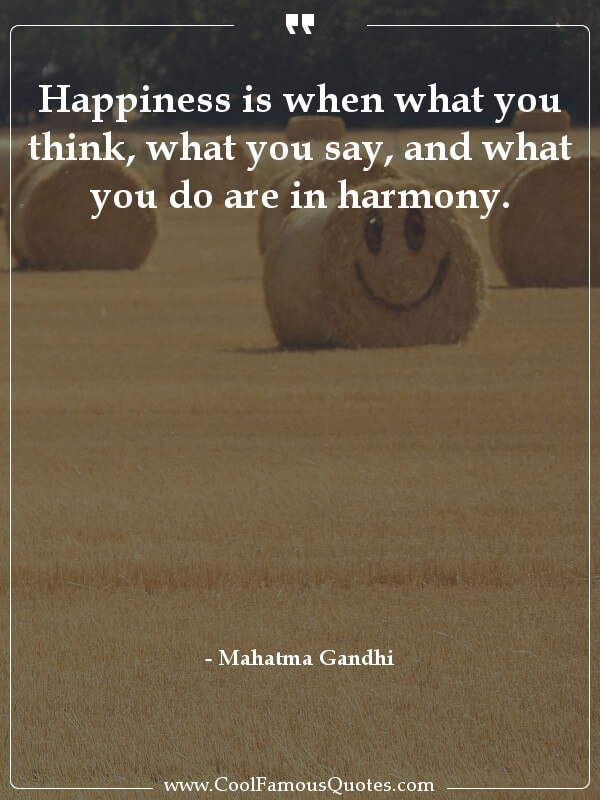 Happiness is when what you think, what you say, and what you do are in harmony.
–Mahatma Gandhi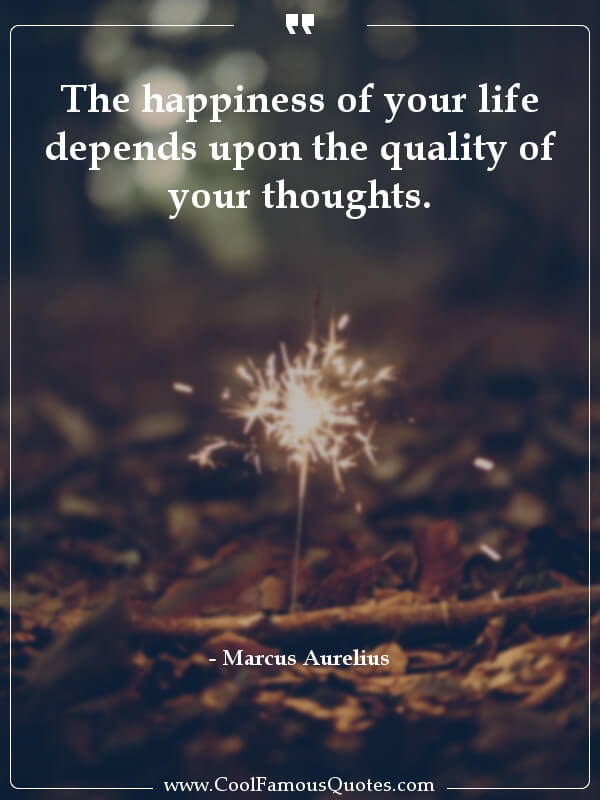 The happiness of your life depends upon the quality of your thoughts.
–Marcus Aurelius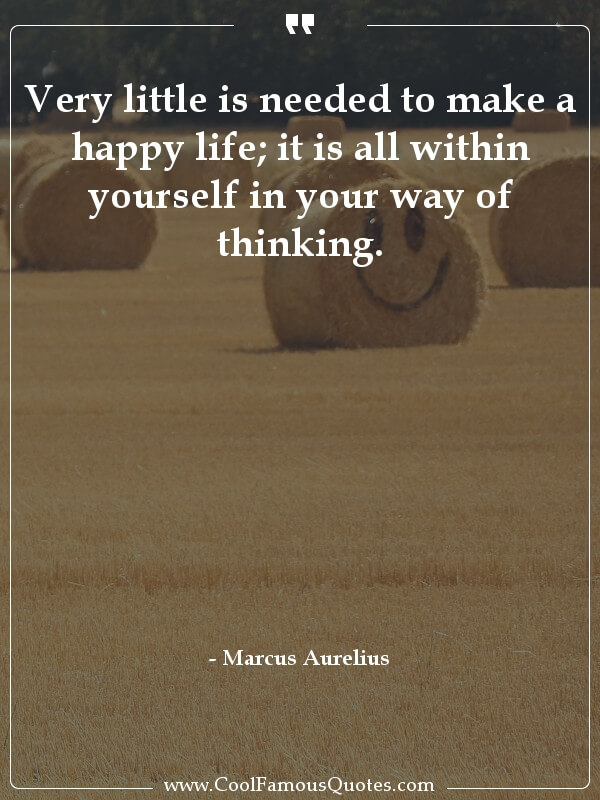 Very little is needed to make a happy life; it is all within yourself in your way of thinking.
–Marcus Aurelius
Truly amazing, what people can get used to, as long as there are a few compensations.
–Margaret Atwood
Happiness depends on being free, and freedom depends on being courageous.
–Marie Rutkoski
For those who are poor in happiness, each time is a first time; happiness never becomes a habit.
–Marilyn Monroe
Ink runs from the corners of my mouth.There is no happiness like mine.I have been eating poetry.
–Mark Strand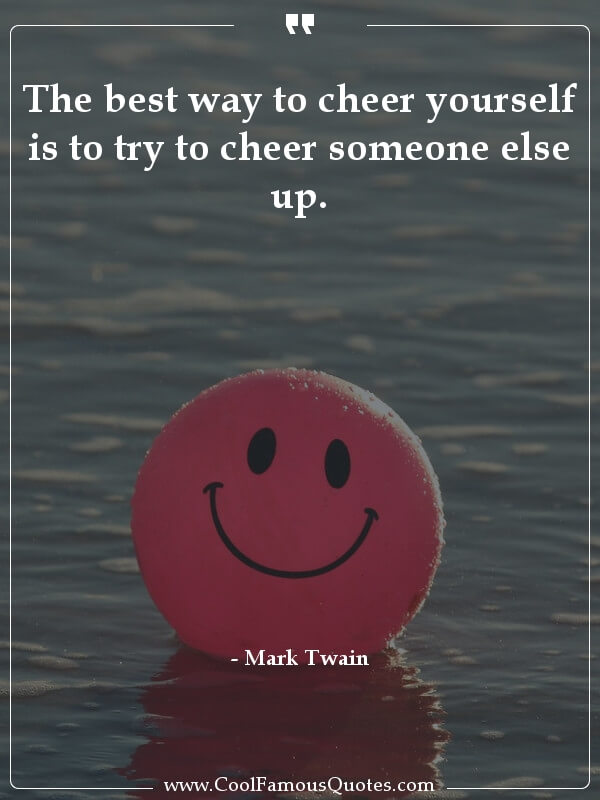 The best way to cheer yourself is to try to cheer someone else up.
–Mark Twain
Sanity and happiness are an impossible combination.
–Mark Twain
I do not think we have a "right" to happiness. If happiness happens, say thanks.
–Marlene Dietrich
The greater part of our happiness or misery depends upon our dispositions, and not upon our circumstances.
–Martha Washington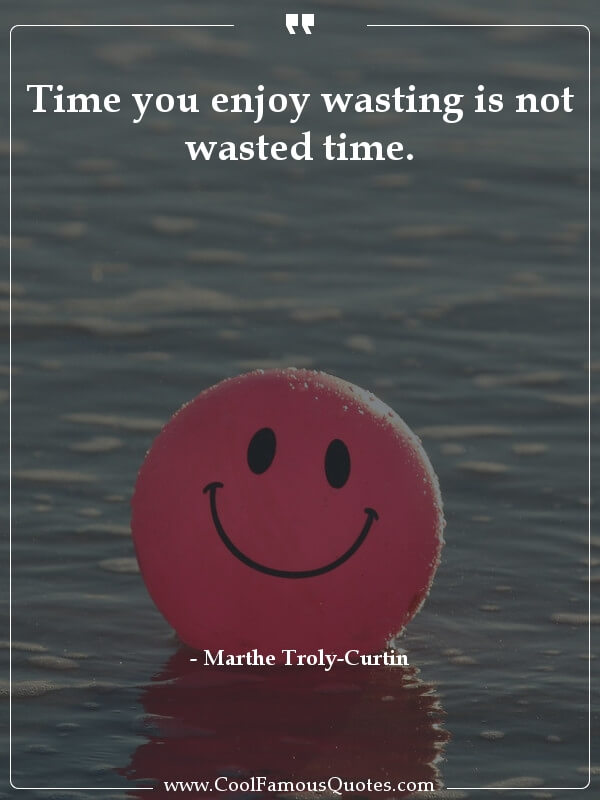 Time you enjoy wasting is not wasted time.
–Marthe Troly-Curtin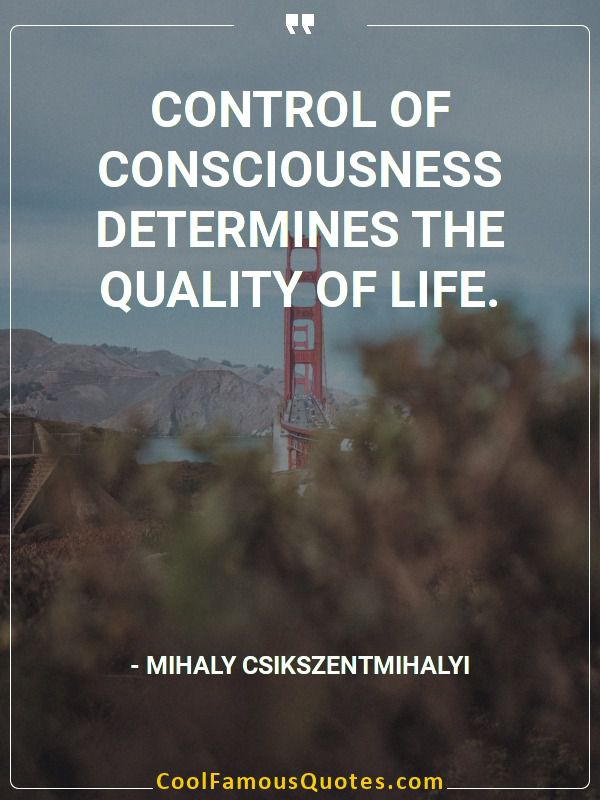 Control of consciousness determines the quality of life.
–Mihaly Csikszentmihalyi
Be happy in the moment, that's enough. Each moment is all we need, not more.
–Mother Teresa
Happiness is found in doing, not merely possessing.
–Napoleon Hill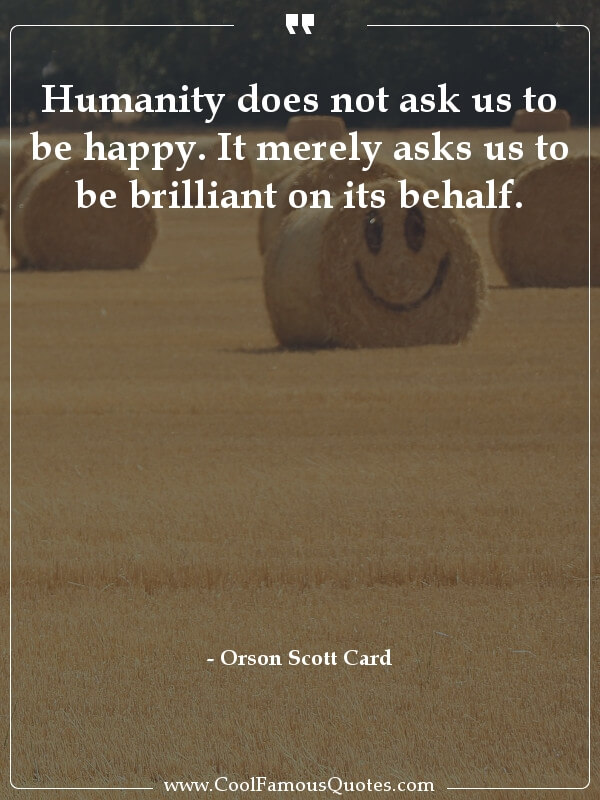 Humanity does not ask us to be happy. It merely asks us to be brilliant on its behalf.
–Orson Scott Card
We have to go. I'm almost happy here.
–Orson Scott Card
Happiness is not a life without pain, but rather a life in which the pain is traded for a worthy price.
–Orson Scott Card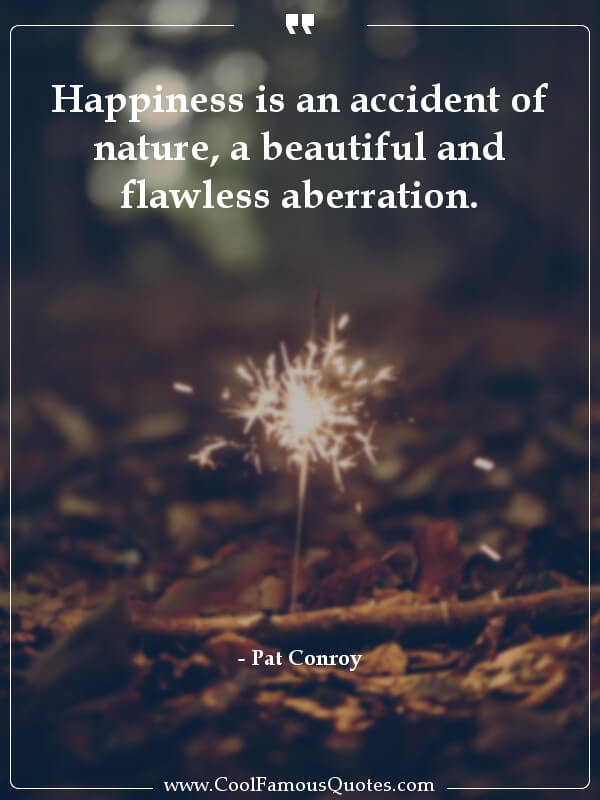 Happiness is an accident of nature, a beautiful and flawless aberration.
–Pat Conroy
To serve is beautiful, but only if it is done with joy and a whole heart and a free mind.
–Pearl S. Buck
The happiest man is he who learns from nature the lesson of worship
–Ralph Waldo Emerson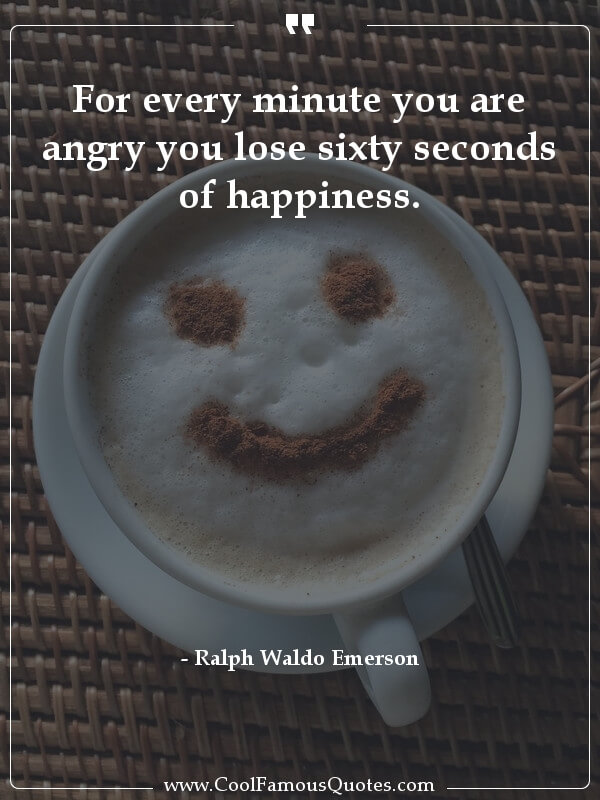 For every minute you are angry you lose sixty seconds of happiness.
–Ralph Waldo Emerson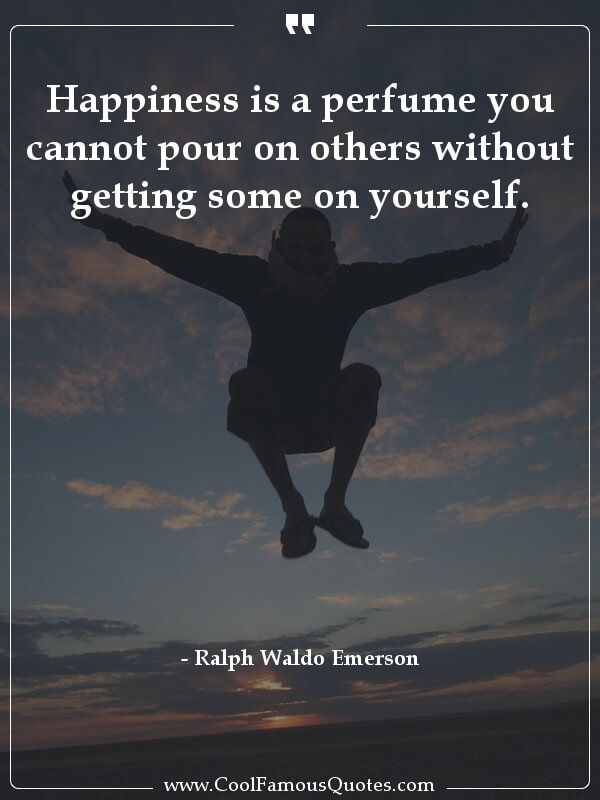 Happiness is a perfume you cannot pour on others without getting some on yourself.
–Ralph Waldo Emerson
One of the keys to happiness is a bad memory.
–Rita Mae Brown
Most people would rather be certain they're miserable, than risk being happy.
–Robert Anthony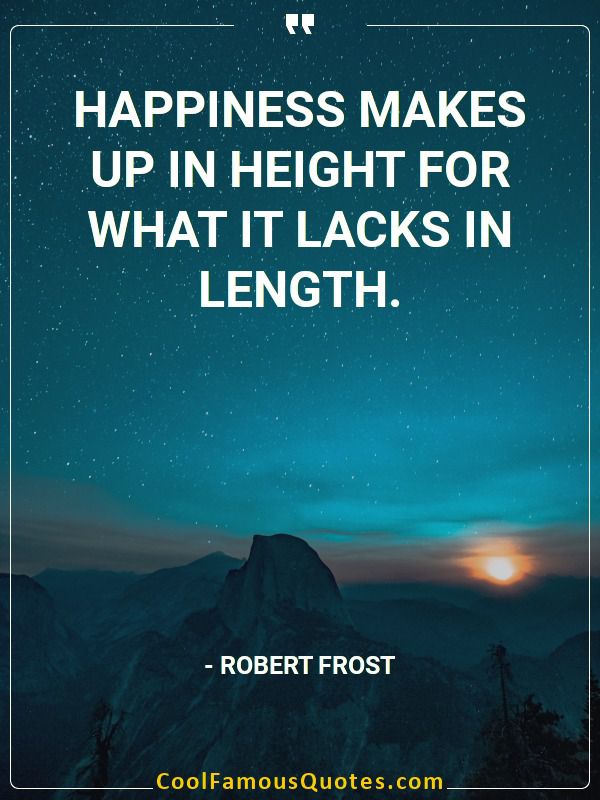 Happiness makes up in height for what it lacks in length.
–Robert Frost
Learn to love someone when they least deserve it, because that is when they need your love most.
–Rodolfo Costa
Happiness is a risk. If you're not a little scared, then you're not doing it right.
–Sarah Addison Allen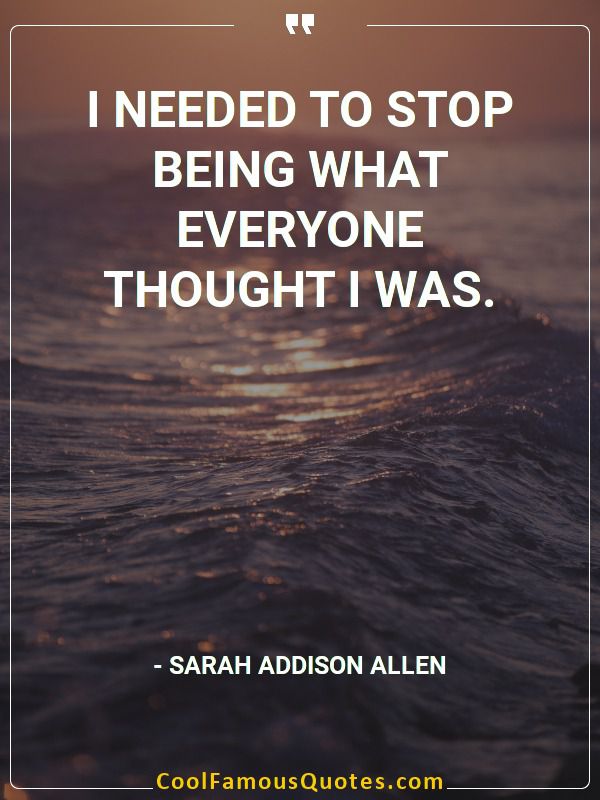 I needed to stop being what everyone thought I was.
–Sarah Addison Allen
The only real battle in life is between hanging on and letting go.
–Shannon L. Alder
Personality begins where comparison leaves off. Be unique. Be memorable. Be confident. Be proud.
–Shannon L. Alder
The intention that man should be happy is not in the plan of Creation.
–Sigmund Freud
He is richest who is content with the least, for content is the wealth of nature.
–Socrates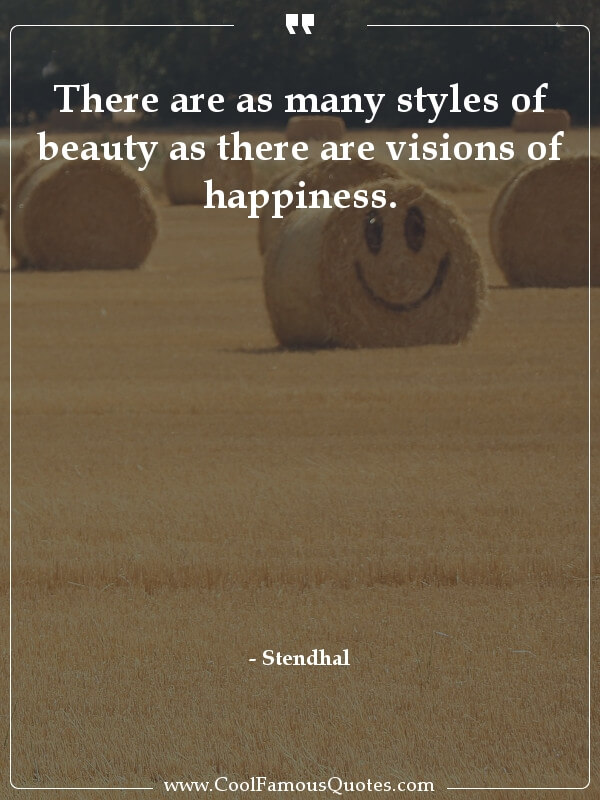 There are as many styles of beauty as there are visions of happiness.
–Stendhal
People who can change and change again are so much more reliable and happier than those who can't
–Stephen Fry
Happiness, like unhappiness, is a proactive choice.
–Stephen R. Covey
The true measure of success is how many times you can bounce back from failure.
–Stephen Richards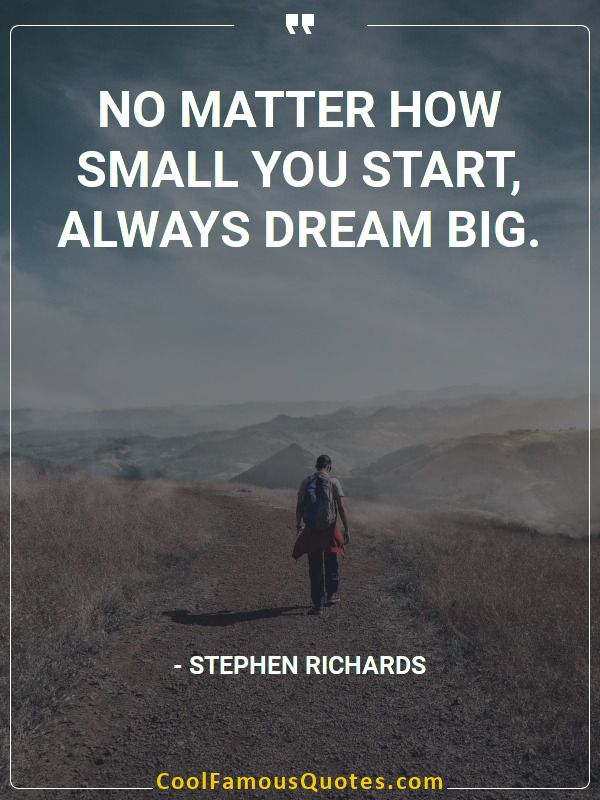 No matter how small you start, always dream big.
–Stephen Richards
Before you can successfully make friends with others, first you have to become your own friend.
–Stephen Richards
Happiness is something we reap from the seeds we sow. Plant misery seeds and that us what you reap.
–Stephen Richards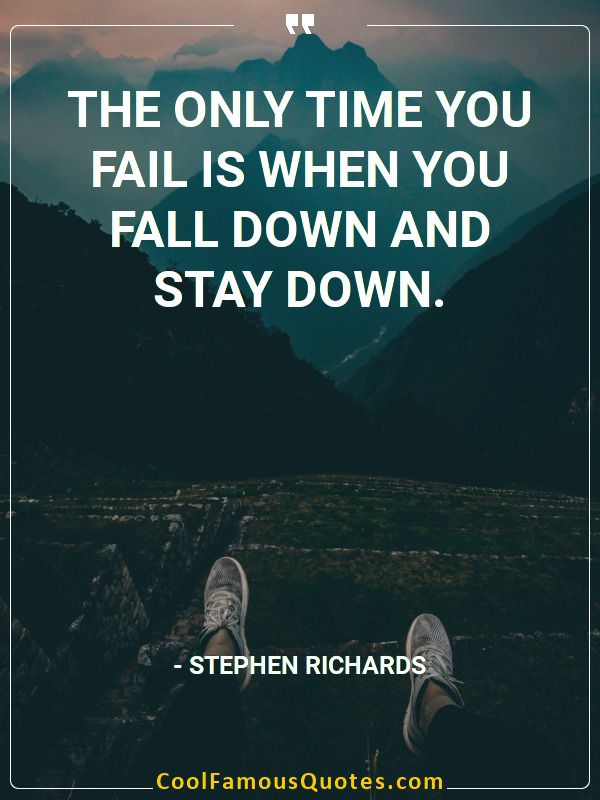 The only time you fail is when you fall down and stay down.
–Stephen Richards
Success will be within your reach only when you start reaching out for it.
–Stephen Richards
It sometimes takes a state of solitude to bring to mind the real power of companionship.
–Stephen Richards
It's not about working for money, it's about having money work for you.
–Stephen Richards
Happy people produce. Bored people consume.
–Stephen Richards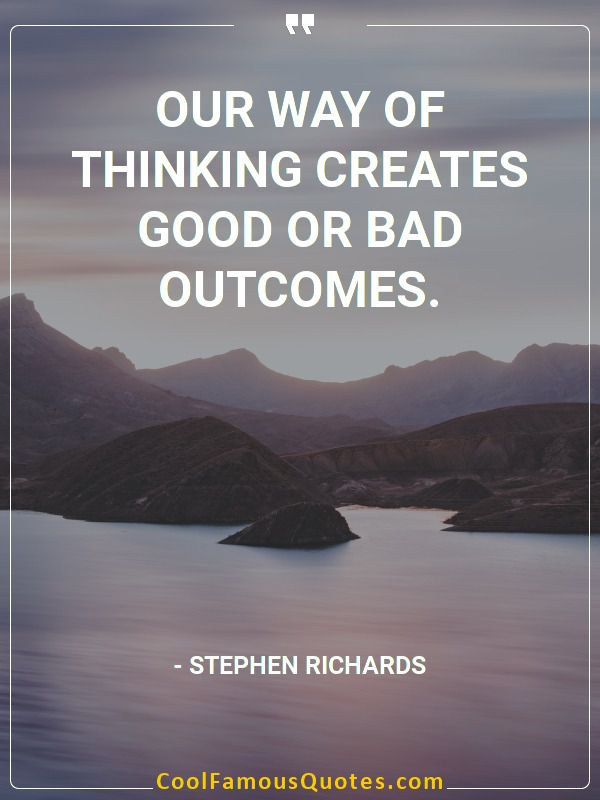 Our way of thinking creates good or bad outcomes.
–Stephen Richards
When your back is to the wall and you are facing fear head on, the only way is forward and through it.
–Stephen Richards
Let us dance in the sun, wearing wild flowers in our hair...
–Susan Polis Schutz
I may never be happy, but tonight I am content.
–Sylvia Plath
Sometimes I wish life was written pencil so we could erase it and write it all over again.
–Thisuri Wanniarachchi
Some people are so much sunshine to the square inch.
–Walt Whitman
You have everything you need for complete peace and total happiness right now.
–Wayne W. Dyer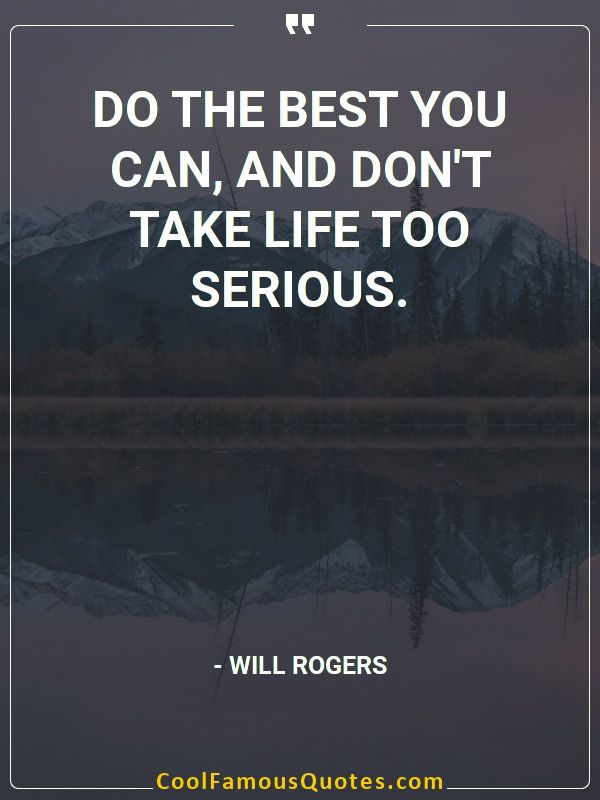 Do the best you can, and don't take life too serious.
–Will Rogers
He whose face gives no light, shall never become a star.
–William Blake
If happy I can be I will, if suffer I must I can.
–William Faulkner
The greatest happiness you can have is knowing that you do not necessarily require happiness.
–William Saroyan
With mirth and laughter let old wrinkles come.
–William Shakespeare
If you want to live a happy life, tie it to a goal, not to people or objects.
–Albert Einstein
Not having the best situation, but seeing the best in your situation is the key to happiness.
–Marie Forleo
Related topics: